The rubber floor has its application in the interior and exterior by creating a flexible and non-slip surface in various colors and thicknesses.
GRIPMAT FLOOR SYSTEM
The GripMat rubber floor system is a modular floor covering consisting of rubber squares of various thicknesses and colors.

GRIPMAT SYSTEM
It is a rubber floor system consisting of rubber squares 50 x 50 cm in a thickness of 15 – 90 mm. It is produced in several different colors and, thanks to its useful properties, it is one of the popular floor systems for indoor and outdoor applications.
Description and properties
Rubber flooring has a wide range of indoor and outdoor use. It is possible to create a flexible and aesthetic surface in various colors. It is suitable for sports grounds, playgrounds, terraces, pergolas, and other functional areas. It has anti-slip properties, absorbs shocks, and protects people and objects in the event of a fall. The surface is permeable to water, so no puddles form on the surface.
The wide range of applications is supported by the modular construction of the system, quick and easy installation, the color range of the elements, the different thicknesses, and the material used. The system is variable and can be laid almost anywhere. It can be used where it is necessary to create a flexible and durable surface with useful properties at a reasonable price.
Installation is very easy and the substrate can be any hard surface, gravel, clay, or lawn. If the area is irregular in size, the required shapes will simply be cut.
modular system of tile with a basic dimension of 500 x 500 mm

selectable thickness from 15 to 90 mm

optional pin couplings for easy connection and disassembly

the base material and pigments do not contain any toxic substances

stability and resistance in the temperature range from -40°C to + 60°C

resistance to most chemicals, oils, paints, acids, solvents

long-term resistance to UV radiation

vibration damping, anti-slip and anti-noise properties
The upper surface of the tile is flat with a non-slip structure with slightly rounded edges. The underside of the tile is in several versions, for smaller thicknesses it is also flat, for larger thicknesses it is lightened by grooves or is formed by hemispherical protrusions. This profiled underside eliminates unevenness of the substrate and therefore it is possible to lay rubber paving on an uneven surface, clay, gravel, or similar types of substrate.
Fall height
For rubber floors, fall protection is a very important feature. For this purpose, the recommended thicknesses of rubber tiles are determined by the height of a possible fall. An example is a playground where 30 mm thick tiles will suffice for the underside of the slide, but under a swing where children can fall from a greater height, a thickness of at least 50 mm will be required.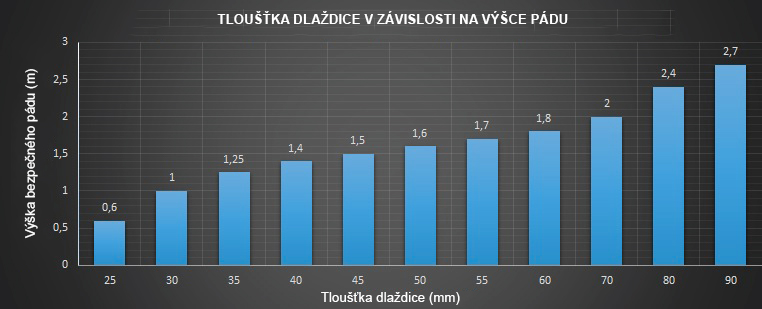 WANT TO KNOW MORE?
EXAMPLES OF USE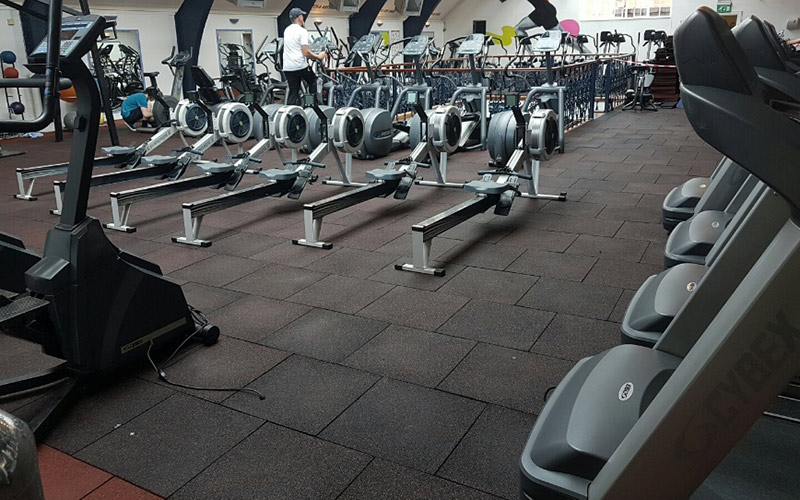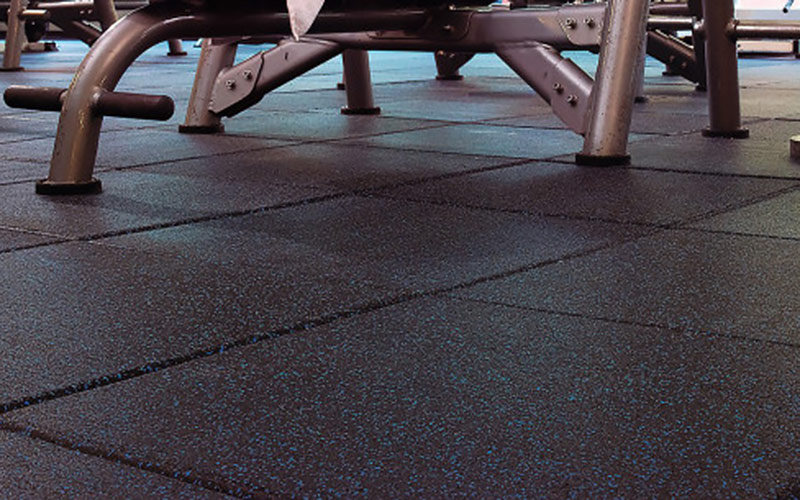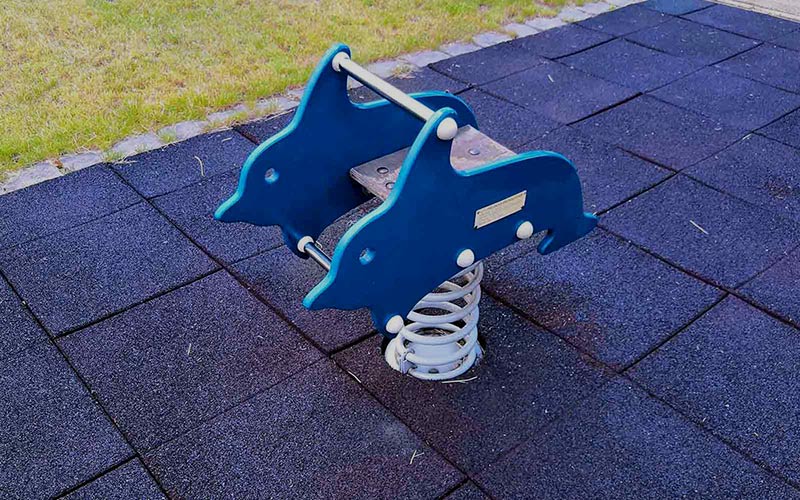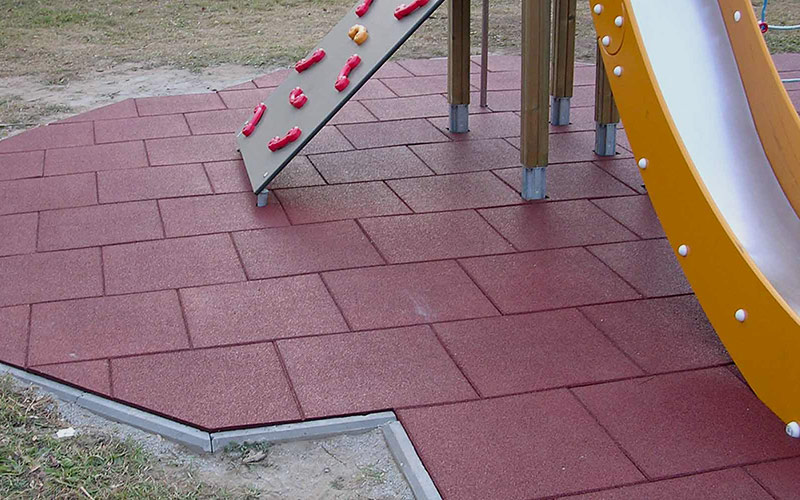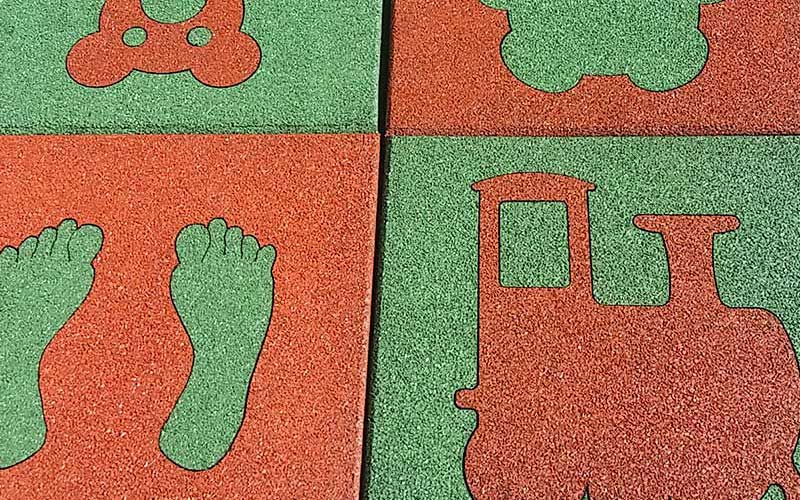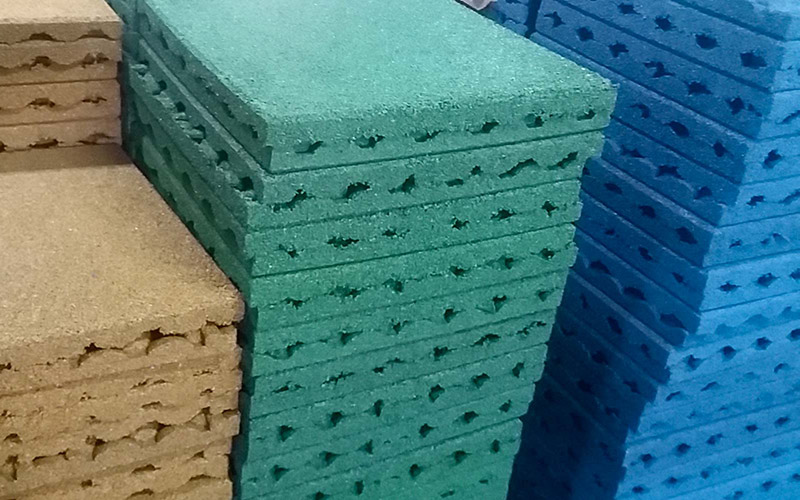 REQUEST THE OFFER
Send us information about your project or product and we will make an offer for you.